Flower Arranging Workshops and Courses
Flower Arranging Workshops
We've been running flower arranging workshops here at Flowers 'n' Things for around 10 years now, and we just can't get enough of it! We love nothing more than engaging with other enthusiasts and helping to nurture their passion for flowers.
Our workshops are lead by Jo, who will help you create a beautiful floral arrangement using seasonal flowers. No prior experience is required to attend these workshops, as we can support everyone from novices through to more experienced flower arrangers. Our regulars love how fun and informal our workshops are, and alongside all your materials and tutoring we also include coffee and biscuits!
Take a look below at availability and give us a ring to book yourself or a loved one onto one of our workshops now.
---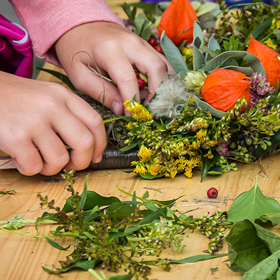 Flower Arranging Workshops
Standard workshops:
These workshops run between 10am - 11:30am.
Thursday November 7th [Autumnal Arrangement - £25pp]
Monday November 25th [Advent Wreath - £35 pp]
Christmas workshops:
Wreath making:
Come and join us for a fun and festive morning creating your very own door wreath! The sessions will be lead by one of our florists, who will show you the ropes to create a ready-to-hang door wreath for your home. We'll also treat you to some tea and seasonal refreshments too! These sessions run from 10am-11:30am and cost £30 per person.
Wednesday December 4th FULL
Monday December 9th LIMITED PLACES
Wednesday December 11th LIMITED PLACES

Festive Flower Arranging:
Our christmas sessions are a lovely, festive, social morning out. Between 9am-1pm, one of our florists will help you to create two seasonal arrangements - a table centre-piece and a mantle arrangement. If you attend the 9am-1pm session with us, there is also the option to stay on and make a door wreath with us between 2pm-3:30pm! The morning session costs £95 per person, and if you wish to stay on to make a wreath with us then it's £30 extra.
Monday December 16th
Wednesday December 18th
When booking please let us know what festive colours you'd like to include in your arrangements so we can prepare your flowers accordingly.
Please call us on 01775 769306 to book your place now!
---
Floristry Courses
We are delighted to be able to offer a floristry course aimed at complete beginners who would like a more in depth introduction to floristry than our half-day workshops. Your tutor will be Jo, who will show you a variety of techniques and skills over 5 sessions. We aim to cover hand-tieds, arrangements, wreaths, button holes, and corsages, but usually add in some extra surprises for you too! Our small class sizes, of up to 6 people, means your tutor can focus on you as an individual and you'll become a really close-knit group with your peers too. We provide all materials, tutoring, and even serve coffee and biscuits each week too!
Take a look below at availability and give us a ring to book yourself onto one of our courses now!
---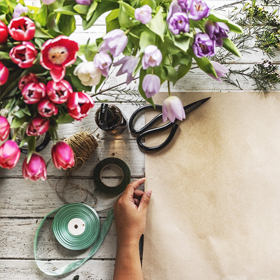 Floristry Courses
These sessions run between 10am-12pm; the course costs £195.
We are currently organising some new dates for our floristry course. If you'd like to be notified when we arrange a new course, then get in contact with us.
Please call us on 01775 769306 to book your course now!
---